10 Car Accessories Everybody is Talking About:
Who doesn't love its own car?
It is the extension of our personality; it is the fruit of our hard labour; it is our friend.
We spend more and more time in it, It is our second home …. sometimes our refuge.
But what can we do in return for our friend on wheels ?
Probably keep it tidy, organized, clean, spotless, routinely serviced, decorated and equipped with latest gadgets…
We just bought the following items that we think you and your vehicle will like as well:
The simple car seat gap filler organizer is an amazing problem solver, it creates extra storage for your stuff and from now onwards you don't have to worry anymore about where to place your stuff like: phone, wallets, credit cards, cigarettes, keys, coins, water, soda...
It also prevents small items to fall under the seats, it is made with high quality material, good-looking and very very easy to install.  The car seat gap organizer is also the perfect gift idea for your friend and family for this coming Holiday Season.
Are you still using the old 5W powered charger? This amazing Wireless Electric Car Phone Holder will charge your phone 3 Times Faster with its 15W!!

It features 5 major levels of protections :

Over-temperature protection/

Over-current protection/

Short Circuit Protection /

Over-Voltage Protection /

Electromagnetic Field protection!!
It comes with 360 rotating sphere that enables free adjustment of angle for the most convenient viewing for you.


The Smart adjustable grip easily accommodates phone sized between 4.7'' - 6.5''. It comes equipped with 2 different supports base: 

Clamping for you air vent and

Suction cup for instrumental panel/windshield.
This super powerful portable car vacuum cleaner is compact and easy to carry, it fits easily into the storage box, the cup holder, the door storage compartment etc. It has a very strong suction and a highly durable battery life.
It is wireless and very easy to use. It comes with flat nozzle and growing nozzle as well which allow you to clean each corners, gaps and concealed parts.
It is very suitable for home and office use as well..

Pro-Turbo LED is the only light that uses Tailor LED and ADOB-Beam technology to ensure a perfect beam pattern without any dark spots or foggy light.

With 360 degrees beam pattern it is possible to see an increased lighting angle from 120 degrees up to 175 degrees.
Its improved Thermal Induced heat control with Led driver and TurboCool fan ensure that your bulbs last longer! They can radiate up to 50,000 hrs of brilliant continuous light.
Works underwater! Rainproof driver  and suitable for  harsh weather conditions.
This car temporary parking card will assist you when you need to leave your car for few minutes and you can be contacted in case you need to move it. When its job is done you can hide your phone number with one click.
Its design is slick and elegant, it is made with sturdy and durable material and resist high temperatures. The phone number is well visible at night time as well.

We strongly recommend this amazing product:  Car Air Humidifier . Air conditioning and weather conditions can influence the microclimate in you car favouring the proliferation of bacteria, dry skin and even respiratory infections.
A dry climate can damage also the leather interior of your car, provoking cracking.
The Car Air Humidifier will easily and quickly increase the humidity in your car by 40% .
It has a large capacity this way you'll need to fill it up with tap water only once a week. The Car Air Humidifier will automatically switch off after 6 hours of continuous activity and when the water level is too low.
The Car Mini Bin is a must-have in your cars.  It helps to keep your car clean and clutter-free and to keep trash in the trash can (where it belongs).🚗
🚗 It fits in any standard-size cup holder, car door "pocket", or door water bottle holder; it's also great next to your computer or on your nightstand.
🚗The Car Garbage Mini Bin  is compact, convenient and functional. It`s made of eco-friendly material that provides maximum strength, durability, and longevity.
Car Garbage Mini Bin is designed for easy loading and unloading.


Tired of tossing around your glasses? It looks like that there is not an appropriate spot for them in your car?
Many drivers place their shades in the cup holder, dashboard, car door storage etc.. Where not only they can obstruct your view but also they can fall, get scratched and crushed.
This multipurpose and convenient Eyeglass Holder is the solution for you!!
Its modern and metal design makes it suitable for every cars interior, it is discrete and can be placed anywhere. It holds firmly with no shacking and zero vibration noise but at the same time it is gentle with your eyeglass temples thanks to his internal sponge layers.

Sometimes are the simplest things that can improve our life. For example this amazing

Car Reading LED Light Rechargeable

is a must!! Not only with its 2 lighting power options enlighten the back of your car with the level of brightness you want but it can also be removed from the holder and carried around where needed. It is easily rechargeable with a USB cable or solar, with its Frosted diffuser with high transmittance and side-emitting technology reduce direct light into the eyes...
And let's be honest... who doesn't love that feeling of being in a plane that the

Car Reading LED Light Rechargeable

gives?!
Needless to say that it can be used everywhere!

Don't panic i

f your car doesn't have Bluetooth; The

FM Transmitter Bluetooth Car Charger

is what you need. It can be plugged into your car's lighter port and used as an FM transmitter, MP3 player, charger and a hands-free calling and answering tool. It directly connects to your mobile phone allowing you to use your phone wirelessly and at the same time drive safely.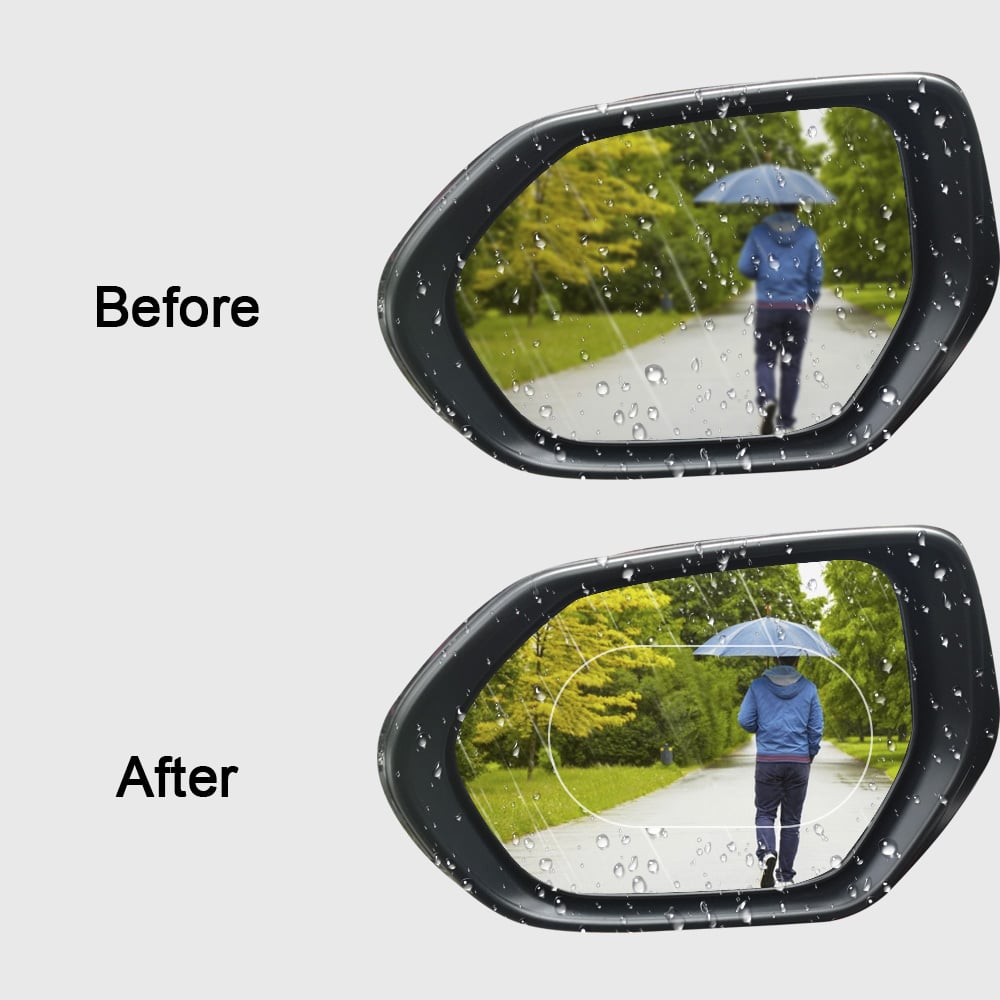 We all know that the winter season often offers bad weather including fog, rain etc. almost on a daily basis. It is needless to say that safe driving is undoubtedly something of pivotal importance especially during this time of the year. Here comes this little helper: the high definition and high  transparency Car Anti-Fog Rear Mirror Sticker which with its water and fogging repellent properties will keep your mirror always clear allowing you to have the best vision of the road.
The Car Anti-Fog Rear Mirror Sticker ensures safe driving at night too thanks to its anti-glare properties which will attenuate the high beam coming from the car at the back.
The Car Anti-Fog Rear Mirror Sticker has anti dust and anti scratch properties too which will protect your mirror as well.
At night the visibility can be very scarce which can cause unwanted accidents to happen. That is why our Car Door Open Warning Lights comes into play. With their 2-Section Alternating Flashing Warning and Symmetrical Rotation Brightness they will sudden attracts the attention of people and cars behind you avoiding collisions and accidents. Unfortunately nowadays cyclists are the victims of various road accidents. Sometimes it is very hard to spot them especially if they don't wear the reflective jacket at night. It is also the drivers obligation to protect them obviously these Car Door Open Warning Lights can surely help with that!
They are waterproof, sturdy and durable with their 2 years battery life, they Switch automatically On When the Door is Open, and off When the Door is Closed!
 Let's make a little investment to improve safety!! Get yours now:
Once in a while your Windscreens need service as well, this Wiper Blades will do the job easily and conveniently. It features a double sanding stripe for even grinding, with its help you will need only 30 seconds to fix your windscreen wiper!!
It is small, compact, durable, made of sturdy material but at the same time lightweight, with its 40 g can be easily carried around.
End most important It will extend the life of your wiper blades by 3 times!!
What are you waiting for , get yours now!

Scorching Sun Turn a Car into a Steamer?
A variety of problems will be triggered when a car is exposed to the scorching sun for long time.
Pull down the Car Windshield Sun Shade to Block the Sunshine! It will quickly Cool off the Whole Car.
This automatic retractable Double thermal insulation will keep your car cool without blocking the view
-Quick installation
-High quality material
-Easy to use, It can be opened by pulling it down and retracted by releasing it for storage.
-Double Thermal Insulation is More Effective than Parasols
The outer-layer high-reflective aluminium foil can directly reflect the sunlight, which can quickly shift the light radiation and reduce the temperature in the car.
The inner-layer high-density black non-woven fabric can effectively keep out heat and prevent the aging and cracking of the interior.
As we spend more and more time in the car , the Perfume Air Freshener is a must!
This Car Perfume Air Freshener got a low key design, it is almost unnoticeable and looks like an integrant part of the car.
It is easy to install : you just need to click it at air vent and with its ultra-thin shape won't block the air outlet.
Its fragrance has ROHS health certification which make it safe to pregnant women and babies.

Keep your vehicle (or even your home!) clean and tidy with this Car Waterproof Trash Bin!
Why is it so good?
This trash bin has a large capacity and it's foldable and doesn't take up too much space.
It also can be used as a storage bag or a cooler!
Great for storing kids' toys and drinks, as well as a travel cooler that can keep drink and snacks cold for a long time.
This professionally designed trash can will let you enjoy your trips and your life!
Your long distance travelling will no longer be boring thanks to this hook and phone holder!
Now you can enjoy your favourite movie in relax without having to hold the phone with your hands.
This amazing 2 in 1 Car Backseat Super Hook with Phone Holder:
-It is very discrete, can be easily hidden when you don't need it.
-It is made with sturdy and high quality material : the hook can support up to 25 kg of weight.
-It is Very very easy to install, with no need to remove the head holder.
-No damage to your car and mobile phone! Its silica gel component of the buckle and holder will protect your car and phone , avoiding scratching and signs.
-It features a built-in stable structural system that prevent joggling and drops also during the most turbulent journey!
-The bracket phone holder can be adjusted to accommodate different phones size spanning from 64  to 90 mm.
This amazing Car Gravity Mount Phone Holder features One-Handed Operation.
Its Adjustable angle got 360 degrees rotation capability, which allows you to adjust the position of your phone to catch the best angle view. It is Compatible with most of the mobile phones on the market and GPS thanks to its adjustable grip suitable for devices sized from 4.7'' to 7.5''
Thanks to its 4 points grips silicone supports features a Tighter Hold even on the bumpiest road.
It features a User-Friendly Design: No metal plates needed, no interference with wireless charging. Clutter free charging port allowing you to charge your phone while on the mount.
Ready to bring your car journey to the next level of comfort?
This amazing Car Neck Pillow Headrest is what you need!!
With its Zero pressure and full filling for your neck, reduces cervical impact making your driving or rest time more comfortable.
Its EVA Memory Material with Double Shock Absorbing Spring Dual combination, guarantee shock absorbing and 5 seconds slow rebound during the frequent start/stop we can encounter in congested or bumpy roads.
Its amazing Design ensures vibration damping shaft and full wrapping that allows side sleep.
It is made of High quality and resistant Breathable fiber PU, which will no show cracks after 20000 bends, neither wrinkles after 100000 folds!!